artists
Philippe Rahm
1967, Pully, CH Lives in Lausanne, CH, and Paris, FR
Climate Uchronia, 2008 Light installation
FORTEZZA/FRANZENSFESTE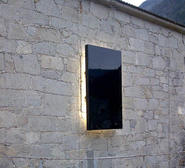 The work of Philippe Rahm raises the possibility that climate can replace the typology, function and form of what we use and define as architecture. For Scenarios he has designed the light installation Climate Uchronia which refers to how our perception of natural and artificial ambient conditions are subtly influenced by factors such as climate change. What we recognized before as natural climate, which has always been outdoor, at the exterior of a building, is no longer natural today. The classical architectural dichotomy between inside and outside does not exist any longer. Human activities and its CO² consumption are changing the global atmosphere of the planet, manipulating it as a product. The paradox is that if we want to experience the "natural" climate we now have to reproduce it "artificially." Climate Uchronia is the construction of a fake sun, including the physical projection of this uchronian universe, revealing the world as it would be if global warming had not already happened. Based on an Atmospheric Chemistry Model that sets out to remove the effects of greenhouse gases since 1850, a computer generates this uchronian climate for each minute of the duration of Manifesta 7. The software calculates the variation of light intensity depending of the variation of the relative humidity in the air. With Climate Uchronia , Philippe Rahm offers us a brief possibility to inhabit a world that we will never know.
Location
FORTEZZA/FRANZENSFESTE
ADAM BUDAK, ANSELM FRANKE/HILA PELEG, RAQS MEDIA COLLECTIVE: "SCENARIOS"
FORTE ASBURGICO, EISACKTAL/VALLE ISARCO,
FRANZENSFESTE/FORTEZZA, ITALY
more