artists
Hélène Binet
1959, Sorengo, CHLives in London, UK
Photography
FORTEZZA/FRANZENSFESTE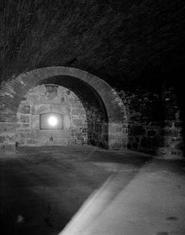 Known for her stunning images of the world's most innovative buildings, Hélène Binet has received widespread attention in recent years for her unique portraits of architectural form. After studying photography in Rome, where she grew up, she worked as a photographer at the Grand Théâtre de Genève, and later turned to architectural photography. Besides commissions from architects she has also produced a personal oeuvre focusing on landscape. Binet's gift lies in the way she uses the dynamic play of light and darkness to create landscapes. The series of photographs she is contributing to Scenarios emphasizes the interplay of the early rationalist and cubic shapes of the fortress, and the ornamental interventions of decay and refurbishment that the edifice has recently undergone. Her choice for predominately black and white imagery aims at establishing the multifaceted potential of the architectural form over time and space, incorporating the legendary history of its many different inhabitants. Hélène Binet's uttermost sensitivity towards the project, and her precise way of working on the site can be explored in the special volume on Scenarios .
Location
FORTEZZA/FRANZENSFESTE
ADAM BUDAK, ANSELM FRANKE/HILA PELEG, RAQS MEDIA COLLECTIVE: "SCENARIOS"
FORTE ASBURGICO, EISACKTAL/VALLE ISARCO,
FRANZENSFESTE/FORTEZZA, ITALY
more