artists
Martino Gamper
1971, Merano / Meran, IT Lives in London, UK
Furniture Design
FORTEZZA/FRANZENSFESTE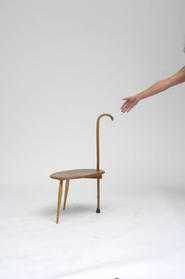 Martino Gamper's practice derives from an abiding interest in the psycho-social aspects of design. In particular, he has a love of corners and the multiple emotions provoked by the simple, single, right-angled boundary. Alongside this concern with under-used spaces, Gamper also nurtures an interest in unwanted objects. Behind each of Gamper's pieces, there is a story: one that involves materials, techniques, people and places. The finished product is a token of all that combined. For him, the aesthetic exists in the look of something as it sits in the brief interlude between being made and being used. His contribution to Scenarios is to involve functional seating, to fully emphasize the imaginative experience. He chose the archetype of a chair as the form that can convey a very clear message about function and use. According to Gamper the act of sitting also means being able to concentrate and focus on something else – sitting allows the mind do the work rather then the body. Hence Martino Gamper's contribution will encompass both sound and furniture, and the different elements will partially mutate into a physical experience incorporating the body of the visitor.
Location
FORTEZZA/FRANZENSFESTE
ADAM BUDAK, ANSELM FRANKE/HILA PELEG, RAQS MEDIA COLLECTIVE: "SCENARIOS"
FORTE ASBURGICO, EISACKTAL/VALLE ISARCO,
FRANZENSFESTE/FORTEZZA, ITALY
more