artists
Graham Harwood, Richard Wright and Matsuko Yokokoji
Graham Harwood, 1960, Brighton, UK; Richard Wright, 1963, London, UK; Matsuko Yokokoji, 1960, Yokohama City, JP Graham Harwood and Matsuko Yokokoji live in Southend-on-Sea, UK Richard Wright lives in London, UK
Tantalum Memorial – Residue, 2008 1938 telephone exchange connected to social telephony network
BOLZANO/BOZEN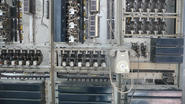 Tantalum Memorial – Residue is a telephony-based memorial to the people who have died as a result of the "coltan wars" in the Congo. Coltan is mined for the metal tantalum – an essential component of mobile phones that is now more valuable than gold.
This work is constructed out of an old electro-mechanical Strowger telephone exchange, discovered amongst the remains of the Alumix factory. The switches are reanimated by tracking the phone calls from Telephone Trottoire – a social telephony network designed by the artists in collaboration with the Congolese radio program Nostalgie Ya Mboka in London. The precisely poised movements and sounds of the switches create a concrete presence for this otherwise intangible network of circulating conversations, weaving together the ambiguities of globalization, transnational migration and the impact of our addiction to constant communication.
The artists Graham Harwood, Richard Wright, and Matsuko Yokokoji, have worked together since 2004, firstly as part of Mongrel, an internationally recognized artist collective. Working in a fusion of art, electronic media and street culture, they try to reach beyond the hierarchies of power and knowledge to involve those normally excluded from expression and collaboration.
Location
BOLZANO/BOZEN
RAQS MEDIA COLLECTIVE: "THE REST OF NOW"
EX ALUMIX, VIA VOLTA 11, I-39100 BOLZANO/BOZEN, ITALY
more