artists
Ant Hampton
1975, Fribourg, CH Lives in London, UK
Dramaturgy
FORTEZZA/FRANZENSFESTE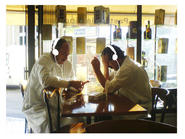 Ant Hampton is a theater director and writer. Since 1999 he has worked together with Silvia Mercuriali as Rotozaza, creating more than twenty-five productions of experimental theater, performance and live art, including several large scale and collaborative public interventions. Rotozaza's stage work has often involved unrehearsed actors, different for each performance, who agree to follow instructions. Their most recent, Etiquette , is for an audience of two who perform the piece themselves at a table in a café, for each other, responding to a series of instructions relayed to them via headphones. Rotozaza's work has been presented worldwide, and in many different languages. Recently Hampton has undertaken projects in Buenos Aires, London and Spain as La Otra Gente (The Other People) exploring a kind of non-representational, documentary theatre with a special focus on "live portraiture" – framed encounters with people outside the art world. As the dramaturge of Scenarios , Ant Hampton is creating an imaginative experience for the public through performance, recording, and "projecting" the written contributions. The staging and composing of versions in different languages is of special importance to him.
Location
FORTEZZA/FRANZENSFESTE
ADAM BUDAK, ANSELM FRANKE/HILA PELEG, RAQS MEDIA COLLECTIVE: "SCENARIOS"
FORTE ASBURGICO, EISACKTAL/VALLE ISARCO,
FRANZENSFESTE/FORTEZZA, ITALY
more