artists
Francesco Gennari
1973, Fano, IT Lives in Milan and Pesaro, IT
Come se (As if), 2001 Stabilized cypress tree, 240 × 40 × 40 cm
BOLZANO/BOZEN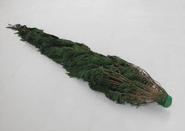 The artist has deprived a cypress tree of its vital sap, and another substance is substituted in order to make it stay green and elastic forever. Now the cypress has no roots. It needs no water and no sun, and its appearance has been fixed for eternity. The aesthetics of life and death are the same.
"Everything is set for the construction of a metaphysical landscape, made up of self-portraits and of visions of the world. The demiurge sits at the center of this as the generating and centring figure." Francesco Gennari
Francesco Gennari lives in a place where there is no longer any space for awareness. He loves to go back to where he has never been, and entertains himself by abandoning his human guise and transforming himself into gin. He always has his evening meal at 7.45 pm. He is the founder of a new pagan metaphysics. He embodies the awareness of the crisis and, at the same time, its solution.
Location
BOLZANO/BOZEN
RAQS MEDIA COLLECTIVE: "THE REST OF NOW"
EX ALUMIX, VIA VOLTA 11, I-39100 BOLZANO/BOZEN, ITALY
more