artists
Nina Canell
1979, Växjö, SE Lives in Dublin, IE
Accumulus (8152 Volt), 2008 Mixed media installation, dimensions variable
ROVERETO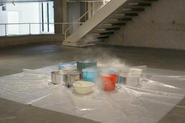 Hinged upon an electromagnetic fabric, a number of works relate to each other through pools of radiated light, creating a place in which matter and non-matter meet up in a series of carefully balanced sculptural happenings. This "community" of objects is part of an ongoing series of Heat Sculptures which often appear, in Nina Canell's practice, as improvised formations using neon and other debris. Usually installed on the floor, they may also be found at higher altitudes, such as resting on the beams of a ceiling or in the corner of a wall.
In the context of Manifesta 7, the creation, distribution and shape-shifting capacities of electric energy – which contributes to the elusive nature of these sculptures – act as a loose seam of confluence. While adaptors and cables inevitably serve to provide the electric currents which are integral to Canell's forms and objects, the desire to trace these disappearing cables out towards the never-ending system of shifting energies, is an idea that is highly relevant to her work. Canell's phantasmal arrangements exist as testing grounds in which logic leaps to the poetic, allowing sculpture to become a fleeting and wandering form of being. Hers is a sensual landscape of spatial, sonic and social unity, where the remnants of the post-industrial aesthetic correspond to the organic effects choreographed by the artist as ephemeral compositions of everyday objects, smoke and electronic sounds.
Location
ROVERETO
ADAM BUDAK: "PRINCIPLE HOPE"
EX PETERLINI, VIA SAVIOLI 20 – MANIFATTURA TABACCHI, P.ZZA MANIFATTURA 1 -STAZIONE FERROVIARIA, PIAZZALE ORSI, I-38068 ROVERETO, ITALY
more