artists
Anna Faroqhi
1968, Berlin, DE Lives in Berlin, DE
Variations on the Everyday I, 2008 Pencil on paper, dimensions variable Variations on the Everyday II, 2008 Film, duration: 7' 53'' Variations on the Everyday III, 2008 Film, duration: 6' 34''
BOLZANO/BOZEN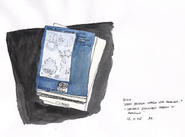 "The project Everyday Variations I – III is a work-in-progress that allows me to explore the most private aspects of life. Having a one year-old daughter, I am reminded every day of the beauty and potency of each moment, and that there is nothing too small or insignificant to be carefully regarded. Variation I is a loosely assembled collection of still-lives found in my own flat. The two videos Variations II and III are portrayals of the working-class neighbourhood of Neukölln, where I live in Berlin. In Variation II , streets and houses are looked at in relation to their history, whereas in Variation III the present and daily routes of the narrator are the main focus. One of the themes of the films is the invisibility of the past and how it has to be searched for and extracted, like an archaeological object." Anna Faroqhi
Anna Faroqhi has studied music, mathematics, physics and film. She lives and works as an author and filmmaker in Berlin and teaches film at the Hanns Eisler Hochschule für Musik in Berlin.
Location
BOLZANO/BOZEN
RAQS MEDIA COLLECTIVE: "THE REST OF NOW"
EX ALUMIX, VIA VOLTA 11, I-39100 BOLZANO/BOZEN, ITALY
more