artists
Anders Kreuger
1965, Risinge, SE Lives between Lund and Malmö, SE
Subtitles, 2008 Single-channel video, 25'
BOLZANO/BOZEN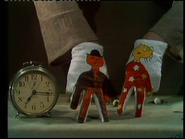 "Little Daddy Cardboard! Little Daddy Cardboard! That's me! Actually, you're not allowed to stand on tables if you're a human being, or a dog, or a table, or in the ceiling. Well, only if you're a fly!" (from Subtitles)
Subtitles consists of Kreuger's own subtitles to an episode of the children's television series Det Bara Händer (an untranslatable pun combining two meanings: "just happening" and "bare hands") by Staffan Westerberg, produced for Swedish Television in 1972.
"I have collapsed a whole archive of the Self into this one episode, which I found a few years ago when I spent several months studying audiovisuals from the 1970s. I remembered it, frame by frame, from when I was seven. I also remember being offended by the over-aestheticized pedagogy. But that might as well be someone else's memory." Anders Kreuger
Anders Kreuger is curator at the Lund Konsthall, Director of the Malmö Art Academy, program team member for the European Kunsthalle in Cologne, and co-initiator (with artist Praneet Soi) of Calcutta Art Research.
Location
BOLZANO/BOZEN
RAQS MEDIA COLLECTIVE: "THE REST OF NOW"
EX ALUMIX, VIA VOLTA 11, I-39100 BOLZANO/BOZEN, ITALY
more