artists
Charles Lim Li Yong
1973, Singapore, SG Lives in Singapore, SG
It's not that I forgot but rather I CHOSE NOT TO MENTION, 2008 Three-channel video installation, 5'
BOLZANO/BOZEN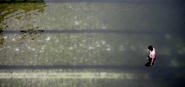 In a highly developed tropical island city, the built environment is systematically cleaned and replaced as a way of resisting the tropical forces of decay and parasitic growth.
But Charles Lim wonders if this particular human behavior is not actually another form of these same tropical forces. He notices that human construction operates exactly like parasitic growth. The only difference is that human behavior has the power, for short periods, to conquer the environment entirely, giving rise to a totally sterilized "clean slate" on which to build.
This system of sterilization encourages the fear of the "ghost" – everything that suggests any other histories. There is a formidable presence that cannot be forgotten and must not be mentioned. Lim's films of decay and sterilization seek to probe and test this presence.
Charles Lim Yi Yong co-founded the net-art collective tsunamii.net with Tien Wei Woon and Melvin Phua and is currently working on the Seastories series, in which he conflates the idea of borders by reversing the geography of the sea and land.
Location
BOLZANO/BOZEN
RAQS MEDIA COLLECTIVE: "THE REST OF NOW"
EX ALUMIX, VIA VOLTA 11, I-39100 BOLZANO/BOZEN, ITALY
more