artists
Yane Calovski
1973, Skopje, MK Lives in Skopje, MK
Master Plan, 2008 Drawings, video, publication and the original copy of Kenzo Tange Associates' _Master Plan for the Reconstruction of Skopje's City Center_
BOLZANO/BOZEN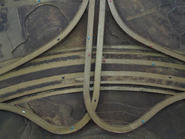 As a "new" city of the mid-Sixties Skopje was a rare case of intended brilliance and unfocused deliberation. The capitalists envisioned it; the socialists articulated it and the communists built it. Today the city has moved into a very different realm of political and urban discourse, committed not so much to progressive ideals of urban living as to emblematic "prize architecture."
Master Plan is an installation of drawings and video that incorporates the recently unearthed, winning proposal by Kenzo Tange Associates for the reconstruction of the city of Skopje following the earthquake of July 1963. The video and the series of drawings present further ideas found in traces of information and the residue of research. Master Plan gives a sense of how the rational space of diagrams comes to overlap with the mystical space of illusions.
Yane Calovski makes drawings, writes stories, develops narrative strategies for public spaces and believes in vernacular knowledge. He is the founder of D_ , a journal of contemporary drawing and, in collaboration with the artist Hristina Ivanoska, _press to exit project space .
Location
BOLZANO/BOZEN
RAQS MEDIA COLLECTIVE: "THE REST OF NOW"
EX ALUMIX, VIA VOLTA 11, I-39100 BOLZANO/BOZEN, ITALY
more