artists
TABULA RASA
Denis Isaia, in conversation with Raqs Media Collective
Tabula Rasa: 111 days on a long table
BOLZANO/BOZEN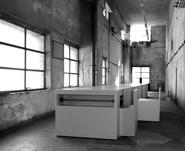 Photo: Eugenio Tibaldi
Tabula Rasa – blank slate – a situation awaiting a presence, an act or an inscription – a space of potency, ripe with anticipation, ready for imminence.
Tabula Rasa is a special project of Manifesta 7 within The Rest of Now. It is intended to animate a series of interactions and a network of conversations with the people of Bolzano / Bozen and the broader region. The project will be realized over 111 days on a long, clean table – a "blank slate" – in the empty space of Room 124 in the ex-Alumix building. It consists of a series of events embodying many modes of gathering, talking, sharing, viewing and making things together. The only condition is that each event must start in an empty room, on a clean table.
The events featured in Tabula Rasa include table-top exhibitions and performances, music, dance, theatre, film, talks, seminars, workshops, demonstrations, experiments, book releases, archival presentations, gardening and the occasional self-organised banquet.
The long table, or Tabula Rasa, in Room 124, was designed by Nikolaus Hirsch and Michel Müller. Radio Tandem FM98.4, Bolzano / Bozen, is media partner of the Tabula Rasa project.
Denis Isaia is an independent curator based in Bolzano / Bozen. He is the curatorial assistant to Raqs Media Collective for The Rest of Now.
Highlights of Tabula Rasa:
Alumix / Ex-Alumix / next Alumix: What's the future of the building?

Thoughts on conservation, contemporary cities and public needs. With: David Adjaye, Nikolaus Hirsch, Michel Müller, Jorge Otero-Pailos, Reinhard Kropf, Siv Helene Stangeland.
Friday, July 18, 5pm

The Miracle Metal – Memories of Aluminium

Jeffrey T. Schnapp, Milan
The Alumix Factory is closely connected with the history of Aluminium production in Italy. Jeffrey Schnapp explores the political and cultural resonances of Aluminium, which was once considered to be the miracle metal of modern Italy.
Saturday, July 19, 5pm

The Pirate as Archivist – Tools and Materials

Jan Gerber and Sebastian Lütgert
This workshop is an initiative against an art form that has become proprietary. Today, the dream of cinema no longer consists purely of images, but of the abstract rights that it claims to these images: infinite intellectual properties and their universal protection. In consequence, the single, most interesting tendency in cinema today – and the only one that holds a future – is piracy: the digital reproduction and redistribution of the entire history of cinema. It is organised spontaneously and on a world-wide level. This workshop is not only an attempt to increase the number and quality of movies in circulation, but also to increase the amount and quality of self-esteem among the individuals and organisations participating in various ways in this circulation.
Sunday, July 20 and Monday, July 21 at 5pm

In the Greenhouse

A nursery exhibition by Martina Schullian, Bolzano / Bozen
Tuesday, July 22 to Sunday, July 27

Informal Tabula Rasa

A workshop in "after-architecture" animated by Eugenio Tibaldi, Naples
Eugenio Tibaldi, an artist based in Naples, is interested in the practice, common in Southern Italy, of "regularising" informal and illegal constructions by drawing up retrospective architectural plans. This practice could be considered a form of "para-design," or "after-architecture." In Informal Tabula Rasa, Tibaldi invites the people working in the ex-Alumix factory during the exhibition – guards, ushers, guides and ticket staff – to build a construction parallel to the long table in Room 124, using unwanted objects and materials from their homes. This construction is then rendered as a drawing, as a collective exercise in "after-architecture". The drawing is exhibited along with the improvised, built form.
Monday, July 28, to Saturday, August 2

Guestbook: Mind-mapping The Rest of Now

Open Anonymous Society, Berlin
Open Anonymous Society (OAS) is a temporary, heterogeneous constellation of artists based in Berlin. It regards the responses of ordinary visitors to art events, usually private and unexpressed, as the "residue" of contemporary art exhibitions. Guestbook: Mind-mapping The Rest of Now will solicit responses from visitors to The Rest of Now in the form of annotations, comments, thoughts, drawings and diagrams, which will be displayed on a "Mind Map" – a chart of conceptual links and associated interpretations – to be exhibited in Room 124.
Sunday, August 3 to Saturday, August 9

Radio Symphony: listening to global radio with local short-wave enthusiasts

A "radio symphony" is an accidental orchestral form created by simultaneously tuning-in to several radio stations. Twenty-four transistor radios will be arranged on the table, each tuned by a local, short-wave radio enthusiast, to the frequency of a radio station somewhere in the world. A fresh list of stations will be drawn up for each of the five days of the Radio Symphony event. The experience of walking along the table will be like listening to the turning dial of a giant radio. The visitor will be immersed in a constantly changing concert of sounds, voices, languages, music, static and radio-silence from all around the globe.
Wednesday, August 13, to Sunday, August 17

Industrial Ballads: an archive of abandoned industrial buildings

By Botto e Bruno, artists, Turin
Monday, August 18 to Sunday, August 24

Commodore 64 slam

Organisation and sound installation by Enrico Spanu, Bolzano / Bozen
Thursday, August 28 to Sunday, August 31

Summer Drafts, by Paolo Plotegher, Bolzano / Bozen and London, in collaboration with Lungomare, Bolzano / Bozen

Public presentation of the outcome of the Summer Drafts project, a series of workshop and intercultural events exploring informal meeting spaces and forms of sociality which are transversal to the different cultural identities of the local territory.
Thursday, September 4, 6 pm

Naključni osebni pogovori – Random Private Conversations

Milena Kosec, Career Contemporary artist, Ljubljana
The artist talks with randomly chosen visitors on a free subject, however, the discussion usually focuses on the person's life activities.
Through direct contact with the audience, artist Milena Kosec explores issues of interpersonal interactions, randomness, immateriality, uniqueness of a moment, together with non-repeatability.
In her performances she involves randomly chosen visitors, with whom she plays the role of the listener, establishing a spontaneous, sincere and personal dialogue. Without notes or documentation, the only traces these random conversations leave behind lay in the realm of personal memories.
Friday, September 5 to Sunday, September 7

Interpretation Laboratory I

By Monipodio, a cartoonists' collective, Bolzano / Bozen
A group of cartoonists respond to The Rest of Now.
Saturday, September 6 to Sunday, September 14

Interpretation Laboratory II

Oral review on Manifesta 7 by 10 curators, moderated by Elvira Vannini, Bologna
After a private conversation, 10 young Italian curators will present to the public a review on Manifesta 7.
Wednesday, September 10, 6pm

How to stabilize a wobbly table, or the Bolzano Theorem.

A mathematics performance illustrating the Bolzano theorem and its peculiar applications, by Andrea Caranti, Trento.
Thursday, September 11, 6pm

Building Instruments: The Bolzano / Bozen Sessions

With Espen Sommer Eide, Bergen
Espen Sommer Eide, an artist, musician and philosopher based in Bergen, has designed a method for the collective building of improvised instruments for electronic music, using gramophone records, turntables, bits of amplifiers, sub-woofers, etc. The process of making the instruments continues into the making of the music itself. In The Bolzano / Bozen Sessions, Sommer Eide teams up with friends, acoustic hobbyists and local electronic music enthusiasts to build instruments and make music on, and around, the long table.
Friday, September 12

Floating Territories: Book Presentation

Presentation of a book edited by Nico Dockx, Germana Jaulin and Chiara Parisi based on a logbook of conversations between Nico Dockx, Yona Friedman, Helena Sidiropoulos and Jochem Vanden Ecker, arising from their work on the Floating Territories project.
Saturday, September 13, 6pm

Building Transmissions: Sound Performance

A live sound performance by Kris Delacourt, Nico Dockx and Krist Torfs, and the release of a 12" vinyl record connected to the TEUFELSgroup installation in The Rest of Now.
Saturday, September 13, 9pm

Rosarot und Himmelblau I

Object collections from Bolzano / Bozen, curated by Lisa Trockner, Bolzano / Bozen
Sunday, September 14 to Friday, September 19

Dictionary of War

A collaborative platform for discussing concepts about war, to be invented, arranged and presented by scientists, artists, theorists and activists at a public, two-day event. The aim is to pinpoint key concepts that play a significant role in current discussions about war, as well as those that have been neglected, or have yet to be created. Over the past two years, 125 key concepts have been produced in previous editions of the Dictionary of War, developed in Frankfurt, Munich, Graz, Berlin and Novi Sad. The sixth edition, to be developed at Manifesta 7, will be a remix of concepts from former editions, as well as an exhibition of a number of newly created concepts and their live presentations. (www.dictionaryofwar.org)
Platform: Saturday, September 20 and Sunday, September 21
Exhibition: Monday, September 22 to Thursday, September 25

Residual Hopes: Table-Top Theatre Weekend

Theatre performances on the table, curated by Il Funambolo, cultural producers, Trento
Saturday, September 27 and Sunday, September 28

Roaming

www.roaming-art.it is a project by Ermanno Cristini, curated by
Alessandro Castiglioni, with the participation of Emanuele Becheri,
Vincenzo Cabiati, Armin Linke, Ermanno Cristini, Microcollection.
ROAMING is a series of exhibitions lasting only for the time of the
opening as flashes that live in the photograsphers? cameras, and then
float in the fuzzy dimension of the web. This edition will be
photographd by Casaluce/Geiger – synusi@
Tuesday, 30 September

Table-Top Music Weekend

Music performances on the table, curated by Andrea Polato, Bolzano / Bozen
Saturday, October 4 and Sunday, October 5

Free Ads

Free distribution of historical ads from Radio Tandem FM98.4, Bolzano / Bozen
Monday, October 6 to Friday, October 10

Art Magazines: What Now?

Panel discussion on editing, publishing and writing for independent and emerging Italian art magazines, broadsheets and occasional publications. In collaboration with Undo.net, an independent online art network.
Saturday, 11 October: 11.30 – 14.00

Table-Top Poetry Weekend

Poetry slam-and-performance on the table.
Saturday, October 11 and Sunday, October 12 – 5 pm

TV Effects on Super 8

By Sara Rossi, Milan
This exhibition celebrates the art of creating animated graphic transitions (popularly called 'TV Effects') on Super 8 film, almost a lost art. Sara Rossi, a filmmaker and artist, presents her personal collection of Super 8 Effects in a specially curated projection program.
Monday, October 13 to Sunday, October 19

Handheld Objects

An exhibition of handheld wooden objects by Davide De Paoli, Bolzano / Bozen
Tuesday, October 21 to Sunday, October 26

Rosarot und Himmelblau II

Sterbebildchen: the Luis Müller collection of remembrance cards, curated by Lisa Trockner Bolzano / Bozen
Monday, October 27 to Sunday, November 2