artists
Graham Harwood
1960, Brighton, UK Lives in Southend-on-Sea, UK
Aluminium, 2008 Book (21 × 23 cm), single-channel video projection, algorithmic sequence
BOLZANO/BOZEN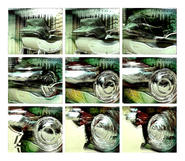 This year it is 99 years since Filippo Marinetti set out the Futurist manifesto. Aluminium , a Futurist graphic novel about the social history of aluminum, takes the Futurist logic of the 20th century and turns it on its comic self. Drawing on archival footage from the aluminum industry, Harwood uses Futurist algorithms to create cells for the book by recording only the differences between key video frames. Dialogue phrases are then gathered up from aluminum issue-crawlers crawling across the Internet.
"We have been up all night, my mates and I, beneath the hum of the microwave transmitter, electricity piped in through high-voltage aluminum conductors. Transported here by motors, alloy rims with deep polished lips, fat pipes and chrome spinners, bright as our souls. Like our machines, we are ruled by the internal glow of electric hearts." (from Aluminium)
The work of Graham Harwood is concerned with establishing ways to make the media strange, and allowing them to become spaces of expanded thoughts and actions. Whether in a social, artistic or educational context, his work has been about releasing the full potential of the media – allowing signals, things, objects, people and actions to pass freely between people.
Location
BOLZANO/BOZEN
RAQS MEDIA COLLECTIVE: "THE REST OF NOW"
EX ALUMIX, VIA VOLTA 11, I-39100 BOLZANO/BOZEN, ITALY
more