artists
Jorge Otero-Pailos
1971, Madrid, es Lives in New York, US
The Ethics of Dust, 2008 Latex, residue from disused wall, 1054 × 1127 × 0.1 cm
BOLZANO/BOZEN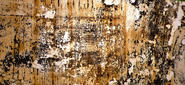 For better or worse, pollution is one of our most important products. If pollution could be preserved, what would it tell us about our social, cultural and industrial past? What sort of ethical questions would a history of pollution raise? Because of pollution's negative connotations, its effects are indiscriminately removed from our buildings and environment. But these are our best records of airborne pollution. Part of our history is erased when such cleaning takes place.
The Ethics of Dust displays the pollution that was 'saved' from a wall inside the ex-Alumix factory in Bolzano / Bozen, which has accumulated dust since the times when it was built during Mussolini's government. In a two-week performance, Otero-Pailos and his team of architectural conservators scientifically transferred the pollution onto latex casts. Following the tradition of nineteenth-century archeologists, who made plaster casts of the world's monuments so that European academics could study the architecture of distant cultures, Otero-Pailos suggests a new way of looking at architecture and our history.
Jorge Otero-Pailos is an architect and theorist specialized in experimental forms of preservation. In his projects and writings, preservation becomes a powerful counter-cultural practice that creates alternative futures for our world heritage.
Location
BOLZANO/BOZEN
RAQS MEDIA COLLECTIVE: "THE REST OF NOW"
EX ALUMIX, VIA VOLTA 11, I-39100 BOLZANO/BOZEN, ITALY
more