artists
Darius Ziura
1968, Joniskelis, LT Lives in Vilnius, LT
Visuals / Udmurtia, 2007 C-prints mounted on aluminum, 74.5 × 74.5 cm
BOLZANO/BOZEN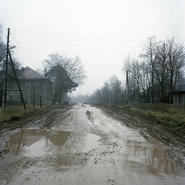 This series of photographs was made during a journey to the Republic of Udmurtia in Russia, during the late fall of 2007.
"I traveled hundreds of kilometers on muddy roads, sleeping in a tent (there were no hotels out there), taking short, early morning swims in the river, shaving in ice-cold water and driving further. I knew no one in those places and I had no destination. I pointed at the most remote places on the map and went there, sometimes making stops to have a look at something or to eat at some local canteen. The journey unfolded before my eyes with haunting beauty, uncertainty, hazy expectations and desire to see. My travel equipment was a Russian Lada Samara car, a tent, a sleeping bag, a flashlight and a map. Wandering alone through those places felt almost like time travel." Darius Ziura
Darius Ziura graduated from the painting department of the Vilnius Academy of Art and works with video and photography.
Location
BOLZANO/BOZEN
RAQS MEDIA COLLECTIVE: "THE REST OF NOW"
EX ALUMIX, VIA VOLTA 11, I-39100 BOLZANO/BOZEN, ITALY
more