artists
Reinhard Kropf & Siv Helene Stangeland
Reinhard Kropf, 1967, Gleisdorf, AT; Siv Helene Stangeland, 1966, Stavanger, NO They live in Stavanger, NO
The Naked Garden, 2008 Rendition of biotope analysis, wall perforation
BOLZANO/BOZEN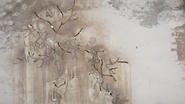 Over time, parasitic micro-organisms such as cyanobacterias and the Cladosporium genus of fungi, have occupied and overgrown the Alumix factory. When the restoration of the building was implemented, it ceased to act as a habitat and host structure for such organisms.
The Naked Garden emerges from this transitional state. It is generated by the mediation of different modes: biological propagation, mathematical abstraction and technological execution. A robot, programmed with the rules by which the fungi grow, engraves and perforates the wall already inhabited by fungi, thereby allowing light, water and wind to enter and to facilitate the basic conditions of life.
In their work, Stangeland and Kropf create alternative building methods using local knowledge and resources, for instance from the timber building heritage or the oil industry. Some of their recent projects are: Geopark , a youth park in Stavanger, a cultural center at Fløien / Bergen, a mountain lodge at Prekestolen, and a cultural center at Flekkefjord.
Location
BOLZANO/BOZEN
RAQS MEDIA COLLECTIVE: "THE REST OF NOW"
EX ALUMIX, VIA VOLTA 11, I-39100 BOLZANO/BOZEN, ITALY
more