artists
Matthew Fuller
Lives in London, UK
Digger Barley, 2007 – 2008 Bags of seeds, 1 × 2 cm
BOLZANO/BOZEN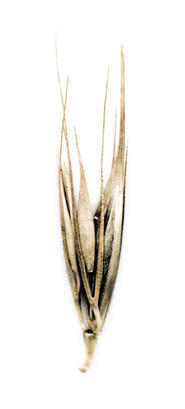 In 1649, during the English Revolution, St George's Hill in the county of Surrey was the first of several common land sites occupied and farmed by groups of people proposing to "make the earth a common treasury for all." The Diggers broke and ploughed the land, fertilized it with manure and planted beans, parsnips, carrots and barley. Though they were eventually evicted from these sites, some of their plants persisted. In the 20th century the hill became a luxury housing estate and golf course, and public access was curtailed. Digger Barley is a distribution of seeds gathered from this place.
For Manifesta 7, a garden of this barley has been grown by Floricultura Schullian in Bolzano. Packets of seeds and information are free to take away.
Matthew Fuller is the author of a number of books including Behind the Blip: Essays on the Culture of Software and Media Ecologies: Materialist Energies in Art and Technoculture . He is editor of the recent Software Studies, a Lexicon . He has worked with a number of groups such as I/O/D and Mongrel, and carries out projects in art systems coupled with other domains such as software, ecological practices and architecture. He works at the Centre for Cultural Studies at Goldsmiths, University of London.
Location
BOLZANO/BOZEN
RAQS MEDIA COLLECTIVE: "THE REST OF NOW"
EX ALUMIX, VIA VOLTA 11, I-39100 BOLZANO/BOZEN, ITALY
more