artists
Dayanita Singh
1961, New Delhi, IN Lives in Goa and New Delhi, IN
Blue Scenery Series, 2006 – 2008 wallpaper, 300 × 300 cm
BOLZANO/BOZEN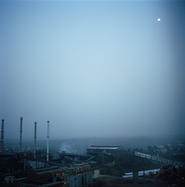 Dayanita Singh's photographs of aluminum factories in Renukoot in the Indian state of Uttar Pradesh show the vertiginous scale of metal production in the world's new industrial centers.
"As a child I would often see wallpapers of exotic locales in doctors' clinics, even in some homes. I had been photographing factories and wondered if some of them might turn into the new scenery for homes, as cheap posters from the street or as shower curtains. So came the idea of the wallpaper for Manifesta 7. I dream of walking into my dentist's office and instead of the Swiss mountains, seeing the Blue Scenery Series wallpaper on the walls." Dayanita Singh
Dayanita Singh has published five books of photography: Zakir Hussain (1986), Myself Mona Ahmed (2001), Privacy (2003), Chairs (2005) and Go Away Closer (2007). In 2008 she published Sent A Letter , a box with seven journals from travels with friends.
Location
BOLZANO/BOZEN
RAQS MEDIA COLLECTIVE: "THE REST OF NOW"
EX ALUMIX, VIA VOLTA 11, I-39100 BOLZANO/BOZEN, ITALY
more