artists
the Museum of Learning Things
by Brigid Doherty
TRENTO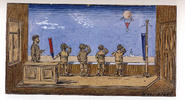 Anschauungsunterricht, literally "instruction in perception," is sometimes referred to in English as "object-based teaching." It denotes a pedagogical approach grounded in theories and practices developed in the early 19th century by Johann Heinrich Pestalozzi and Friedrich Froebel. In the early 20th century, Anschauungsunterricht figures prominently in Walter Benjamin's writings on children's books and toys, his reckoning with the pointed effects and potential significance of kitsch, his understanding of Surrealism, and his conceptualization of technological media.
This museum brings together picture books and other materials used in the context of Anschauungsunterricht in the late 19th and early 20th centuries, works by artists Max Ernst and Gerd Arntz, and publications by philosopher Otto Neurath. As founder of the Museum of Society and Economy in Vienna in 1925, Neurath collaborated with Arntz and others to make the Massenerscheinungen (mass phenomena) of contemporary life – including ordinarily invisible social, economic and political processes – comprehensible to a working-class public. To this end, the "Vienna Method" of graphic representation and museum display adopted techniques of modern advertising and new media technologies in developing innovative systems of visual education. How persons are "trained" from childhood onwards in visual and other ways of perception remains as urgent a concern for us in political and ethical terms as it was for Benjamin and his contemporaries. This project sees this concern as an intervention in present-day culture while it investigates an important historical moment in the visual arts and aesthetic theory of 20th century modernity.
Brigid Doherty teaches in the departments of German and Art & Archaeology at Princeton University, USA.
Location
TRENTO
ANSELM FRANKE/HILA PELEG: "THE SOUL (or, Much Trouble in the Transportation of Souls)"
PALAZZO DELLE POSTE, VIA S.S. TRINITA' 27, I-38100 TRENTO, ITALY
more