artists
Valérie Mréjen
1969, Paris, FR Lives in Paris, FR
Valvert, 2008 Video, 3'40"
TRENTO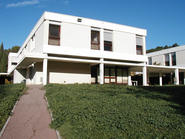 Artist and writer Valérie Mréjen is working on an extensive documentary about the Valvert Psychiatric Hospital in Marseilles. During a visit in March 2008, she shot a short video that is presented at Manifesta 7.
"The idea," Mréjen states, "is to interview the hospital staff, from psychiatric doctors to cleaners, from medical nurses and assistants to workmen and secretaries, about their experiences working there, in order to find out how psychiatric treatment has evolved between the 1970s and today." This video covers her first meetings with the staff, preparatory discussions and the casting for the documentary. It includes a montage of extracts from interviews, images of the place and the voices of some of the patients.
Location
TRENTO
ANSELM FRANKE/HILA PELEG: "THE SOUL (or, Much Trouble in the Transportation of Souls)"
PALAZZO DELLE POSTE, VIA S.S. TRINITA' 27, I-38100 TRENTO, ITALY
more