artists
Jos De Gruyter and Harald Thys
Jos De Gruyter, 1965, Geel, BE. Harald Thys, 1966, Wilrijk, BE They live in Brussels, BE
Untitled, 2008 hd Video, 20' sculptures drawings
TRENTO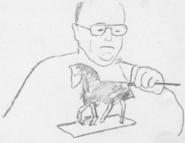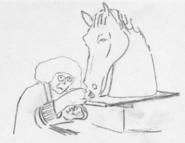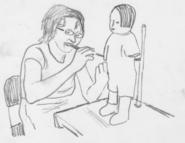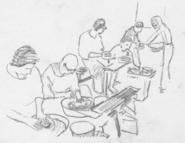 For almost 20 years, Jos De Gruyter and Harald Thys have collaborated to produce a highly idiosyncratic body of videos and films, most of which have somber undertones and address unadorned human conditions rather than following a plot. Driven by an exploration of the existential, these films conjure up dramatic, surreal situations and combine a representation of basic human emotions and behavior with paradoxes. Their aesthetic vocabulary draws both on the natural awkwardness of their untrained actors and on the glazed expressions of asylum patients, while mixing these to create a strange and sometimes macabre theatre of the absurd.
For Manifesta 7, De Gruyter and Thys have created a film inspired by the world of clay modeling. The "hobby world" intentionally positions itself at a distance from the real world, pursuing its repetitive activities in attics, basements or special workshops. Though practiced in a group, these activities remain primarily autistic and emphasize a state of fundamental, tragic loneliness. The finished products seldom leave the spaces in which they were created, ending up in cabinets, boxes or on dusty shelves. The video follows a group of shut-away hobbyists who, under the leadership of a tyrant, submit to ongoing work on their miserable creations.
Location
TRENTO
ANSELM FRANKE/HILA PELEG: "THE SOUL (or, Much Trouble in the Transportation of Souls)"
PALAZZO DELLE POSTE, VIA S.S. TRINITA' 27, I-38100 TRENTO, ITALY
more