artists
Luigi Ontani
1943, Vergato, IT Lives in Rome, IT
Mani in Festa, 2008 Mixed media installation
TRENTO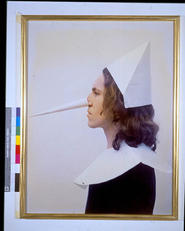 Ontani uses his body as the primary subject of his works, a tool of expression capable of representing countless dualities: sacred and profane, East and West, male and female, human and divine, art history and folk tradition. In creating his works, the artist uses the most disparate materials ranging from cardboard to glass, fabric to ceramics, photography to video, drawing to performance. The adoption of these different techniques is not, however, an end in itself but an opportunity to experiment with new possibilities and variations on the themes and subjects to which he feels closest, undertaking a transhistorical journey. It should also be added that Ontani is himself a tableau vivant, a living work of art, the sophisticated result of his own aesthetic and philosophical explorations.
The series of sculptures, masks and photographic works presented by the artist at Manifesta 7 include some designed specifically for the entrance to the historical part of the Palazzo delle Poste in Trento, like the polychromatic ceramic sculpture (ermestetica) MarinettiDannunziazione and the ten lenticular photographs (which Ontani calls ANAMORpose) installed in the windows next to the original period works by the Futurist artist Enrico Prampolini.
Location
TRENTO
ANSELM FRANKE/HILA PELEG: "THE SOUL (or, Much Trouble in the Transportation of Souls)"
PALAZZO DELLE POSTE, VIA S.S. TRINITA' 27, I-38100 TRENTO, ITALY
more