artists
Hansa Thapliyal
1971, New Delhi, IN Lives in Mumbai, IN
his city, 2008 Mixed media installation, dimensions variable
BOLZANO/BOZEN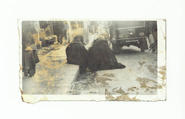 In a small tailor's shop in Srinagar in Kashmir, works an old man who gave up a government job – so coveted in these parts – to embroider. It was not a family tradition; he simply fell in love with it.
"Working in Srinagar, I found a place of rest, and a place to learn something about color, when I watched the old man at work. I don't know what it might have been like in the early 90s, when there was widespread state brutality in Kashmir, for this old man to sit here in his shop.
For his city I have worked on the images of Syed Muzafar a local newspaper photographer. His photographs seem to me to contain much more than just 'the news'. I want them to hang, like a light stiff cloth cut into fabric, so people can slowly explore images that were meant to have a very short life." Hansa Thapliyal
Hansa Thapliyal was trained in film. She has an interest in story telling which she explores in several media. She is currently working with a small group of twelve year-olds to make a "murderous and comic" film, and on a documentary about the end of the grand old movie theaters.
Location
BOLZANO/BOZEN
RAQS MEDIA COLLECTIVE: "THE REST OF NOW"
EX ALUMIX, VIA VOLTA 11, I-39100 BOLZANO/BOZEN, ITALY
more