artists
Judi Werthein
1967, Buenos Aires, AR Lives in New York, US
Secure Paradise, 2008 Single channel video, duration: 15'
BOLZANO/BOZEN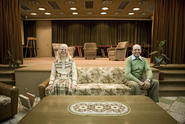 "Colonia Renacer is twenty-five miles from Temuco (capital of the Araucanía Region in Chile). Its inhabitants are all, without exception, German. The only war criminal to have spent time in the colony was Walther Rauss, who, it was later claimed, had taken a part in certain torture sessions during the early years of Pinochet's regime. Neighbors used to speak of albino families driving tractors at night. Magazine articles from the time contain what are probably manipulated photos in which the dismayed Chilean public was able to examine a number of rather pale and serious individuals tirelessly working the fields. After the coup in 1973, Colonia Renacer disappeared from the news.
Willy Schürholz, the youngest of five brothers, did not learn to speak Spanish properly until he was ten years old. Until then, his world was this vast domain enclosed by the colony's barbed-wired fences." (From Roberto Bolaño's, Two Germans At The Ends of The Earth , 1996)
The work of Judi Werthein has been seen at the Tate Modern, the Centrum Beeldende Kunst in Rotterdam, Stichting de Appel in Amsterdam and the Contemporary Art Museum in Vilnius, among others. – different style. The other artists have a brief description of their work….
Location
BOLZANO/BOZEN
RAQS MEDIA COLLECTIVE: "THE REST OF NOW"
EX ALUMIX, VIA VOLTA 11, I-39100 BOLZANO/BOZEN, ITALY
more