artists
Lawrence Liang
1974 Kolkata, IN Lives in Bangalore, IN
Pandora's Index, 2008 Mixed media, dimensions variable
BOLZANO/BOZEN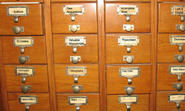 "I've been fascinated for some time by the myth of Pandora, since she was the first person to be granted the gift of curiosity – and to be punished for being curious. Pandora's Index uses the form of a classical library index (already an object that is vanishing) to explore different dimensions and stakes of the debate on knowledge and culture in the contemporary world. For me, the index is an incomplete attempt to order knowledge and a symbol of the way in which the law also tries to create different registers of coherence and value. The contemporary field of knowledge and culture is fraught with tensions produced between control and restlessness, curiosity and punishment – and Pandora's Index attempts to create a fantastical space, which invites us to temporarily dissolve these binary concepts." Lawrence Liang
Lawrence Liang is a legal researcher who is interested in the mutations of knowledge and culture as they encounter new conceptions of property around the world.
Location
BOLZANO/BOZEN
RAQS MEDIA COLLECTIVE: "THE REST OF NOW"
EX ALUMIX, VIA VOLTA 11, I-39100 BOLZANO/BOZEN, ITALY
more