artists
Zilvinas Kempinas
1969, Plunge, LT Lives in New York, US
Skylight Tower, 2008 Magnetic tape, 200x600x1150 cm
BOLZANO/BOZEN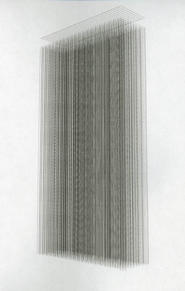 An existing architectural element of a former aluminum factory – a skylight – is "projected" down on to the concrete floor by numerous strips of unspooled videotape. Taking up all 12 meters of the building's height, the black lines stop just a few millimeters above the floor, to form one giant, vertical block. They hang from thin, invisible fishing wire, allowing each strip to rotate freely, so that they constantly change in width, varying from half an inch wide to micro thin, animated by the motion of viewers in space, disappearing and reappearing, optically overlapping and reflecting light from their surroundings. Skylight Tower appears stable and gigantic as a monument. At the same time it dissolves in space, melting away, vulnerable and ephemeral, like smoke or memory.
The installations of Zilvinas Kempinas often use unspooled videotape and electric fans to conjure transfixing visual conundrums such as Flying Tape (2004), which levitated a room-size loop of video tape on the air currents from a circle of fans, and White Noise (2007), which recreated a monumental kinetic screen of "white noise" on a wall.
Location
BOLZANO/BOZEN
RAQS MEDIA COLLECTIVE: "THE REST OF NOW"
EX ALUMIX, VIA VOLTA 11, I-39100 BOLZANO/BOZEN, ITALY
more