artists
Professor Bad Trip (Gianluca Lerici)
1963 – 2006 La Spezia
Images, 1995 – 2002 Collages and paintings
BOLZANO/BOZEN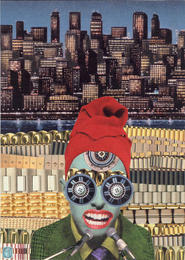 Gianluca Lerici, also known as Professor Bad Trip, was a cult figure in the world of underground music and comics. Punk musician and artist, his psychedelic drawings and paintings circulated around the world in magazines and political manifestos, on album covers and T-shirts. His graphic novel Il pasto nudo (1992), loosely based on William Burroughs' Naked Lunch , is regarded as a masterpiece of this genre, and whose influence can be seen in the work of many following artists.
Professor Bad Trip died in 2006 after a heart attack. He left behind a house filled with irrepressible artistic outpourings, where there was hardly a surface that was not covered with one of his collages. The work shown in Manifesta 7 comes mainly from the artist's private collection.
Location
BOLZANO/BOZEN
RAQS MEDIA COLLECTIVE: "THE REST OF NOW"
EX ALUMIX, VIA VOLTA 11, I-39100 BOLZANO/BOZEN, ITALY
more