artists
Martin Pichlmair
1977, Vienna, AT Lives in Vienna, AT
Approximating a Steam Engine, 2007 – 2008 Recorded sound, speakers, lengths of tube, dimensions variable
BOLZANO/BOZEN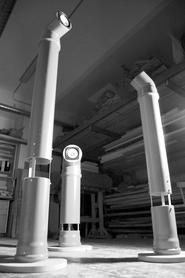 Cloud-spitting chimneys grow into smoke-darkened skies. Throbbing sounds from beating, churning, shifting machines fill the hazy air. Fire drives the engines, and steam spurts out.
The fires have been fed with Welsh coal ever since the depletion of the Gwennap forests. The engines are pumping and hammering in the Cornish Mines: pulling out tin, copper, silver, zinc and arsenic. Departed things leave a memory, a slowly fading impression.
Denis Papin and Thomas Savery were steam-engine designers, quick to acquire patents for their machines. Thomas Newcomen installed seventy-five engines under their patent in English coal and lead mines. Between 1777 and 1801 James Watt and his business partner Matthew Boulton erected forty-nine steam engines of their own patented design – a revision of the Newcomen engine – all over Cornwall. The mining companies' engineers revolted when they realized they were forbidden to alter the engines. In 1800, James Watt's patent expired, and collective invention began.
Martin Pichlmair is a media artist and researcher. He is interested in the many facets of interaction between technology and society.
Location
BOLZANO/BOZEN
RAQS MEDIA COLLECTIVE: "THE REST OF NOW"
EX ALUMIX, VIA VOLTA 11, I-39100 BOLZANO/BOZEN, ITALY
more