artists
David Adjaye
1966, Dar Es Salaam, TZ Lives in London, UK
Europolis, 2008 Metallic foil laminated in toughened clear float glass, 230 × 160 × 1 cm
BOLZANO/BOZEN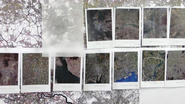 If Europe were condensed into one piece and combined as one cell, what would be left behind as residue? Two extremes: a very dense condition and a big void.
Primarily, European cities have not been planned; they have emerged and evolved over time. They are the result of layers of history and war, development, destruction, mixing, migration and changing populations. They are a collage of ideas, profound and superficial.
In conceiving Europolis David Adjaye has extracted information from the capital cities of the European Union and condensed it into a single entity. Europolis is not a traditional city but the idea of the city as phenomenon. Its organic form contains all the information about those cities from which it is drawn: material texture, population, time, scale and occupation.
David Adjaye is a British architect whose work is characterized by the originality of its materials and a sculptural approach to light. Alongside many international commissions, his work spans exhibitions, private homes and artist collaborations.
Location
BOLZANO/BOZEN
RAQS MEDIA COLLECTIVE: "THE REST OF NOW"
EX ALUMIX, VIA VOLTA 11, I-39100 BOLZANO/BOZEN, ITALY
more