artists
Sanjay Kak
1958, Pune, IN Lives in New Delhi, IN
A Shrine to the Future: Memory of a Hill, 2008 Mixed media installation
BOLZANO/BOZEN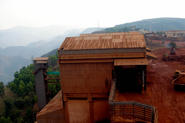 "Niyam-giri" literally means "hill of justice." Not a great mountain, just an ordinary hill, like many others in this part of Orissa, in eastern India. Gently wooded and flat-topped. That's the give-away: in this corner of India, that unmistakable contour can mean only one thing. Bauxite. It tells us that the hill of justice is now already consigned to the past. Its future is already recast as aluminum.
"Bend down to the red-earth top of Niyam-giri, scrape it a bit, anywhere, and you are sure to find a hole. Drop a pebble in and you can hear it falling away, shooting down some endless narrow shaft. Does it fall all the way through? Does it survive the flaming inferno of the earth's core and shoot out somewhere in Europe? A synapse, connecting the memory of aluminum once made in the Alumix factory to the future of a hill in eastern India." Sanjay Kak
Sanjay Kak is an independent documentary filmmaker. Over the last 20 years his work has focused on issues concerning the environment, resistance and the socially marginalized. A Shrine to the Future has been made with designer Itu Chaudhuri.
Location
BOLZANO/BOZEN
RAQS MEDIA COLLECTIVE: "THE REST OF NOW"
EX ALUMIX, VIA VOLTA 11, I-39100 BOLZANO/BOZEN, ITALY
more