artisti
Sanjay Kak
1958, Pune, IN Lives in New Delhi, IN
A Shrine to the Future: Memory of a Hill, 2008 Mixed media installation
BOLZANO/ BOZEN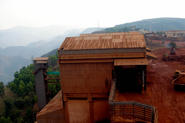 Niyam-giri – letteralmente, "collina della giustizia". Non una grande montagna, ma una collinetta come molte altre in questa parte di Orissa, nell'India dell'Est. Dai fianchi gentilmente alberati e dalla cima piatta. Ecco il prezzo da pagare: in questo angolo dell'India quel contorno inconfondibile può significare solo una cosa. Bauxite. Ci dice che la collina della giustizia è già stata consegnata al passato. Il suo futuro è già riscritto nell'alluminio.
"Chinati sulla cima di terra rossa di Niyam-giri , scrostala un po' ovunque, stai sicuro che troverai un buco. Buttaci un sasso, lo sentirai cadere lontano lungo un corridoio interminabile. Continua a cadere? Sopravvive all'inferno infuocato del centro della terra, ed è scagliato fuori da qualche parte in Europa? Una sinapsi, che collega la memoria dell'alluminio prodotto nell'industria Alumix al futuro di una collina nell'India orientale". Sanjay Kak
Sanjay Kak è un documentarista indipendente. Negli ultimi venti anni il suo lavoro si è focalizzato sulle questioni ambientali, sulla resistenza e sulla emarginazione sociale. A Shrine to the Future è stato realizzato insieme al designer Itu Chaudhuri.