artists
Marcos Chaves
1961, Rio de Janeiro, BR Lives in Rio de Janeiro, BR
Laughing Mask, 2005 Video, duration: 1' 48'', loop
BOLZANO/BOZEN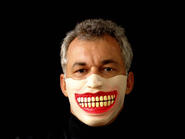 The artist is wearing a latex mask purchased at a Rio Carnival store. It seems as if he wants to take a deep breath, but is unable to do so.
"Chaves is not interested in the formal product, in the 'artistic' object itself, nor in its aesthetics. The creation of a work of art is, for him, nothing more than removing a common object from its logical context, adding to it words and other media stemming from outside the narrow scope of what can be seen, playing with mental associations, humor and chance. These are his 'aesthetic' criteria.
Marcos Chaves finds surprising meanings and values in vulgar things that are dissimulated by habit or convention. He makes unpredictable displacements and produces parodistic assemblages by distilling his acute observations of the world, from technology to rubbish." Ligia Canongia
The work of Marcos Chaves is characterized by the use of different media, moving openly between the production of objects, photographs, videos, drawings, words and sounds.
Location
BOLZANO/BOZEN
RAQS MEDIA COLLECTIVE: "THE REST OF NOW"
EX ALUMIX, VIA VOLTA 11, I-39100 BOLZANO/BOZEN, ITALY
more