artists
Anne-Mie Van Kerckhoven
1951, Antwerp, BE Lives in Antwerp, BE
Theory Can Be Sexy (Kalligraphie), 2007 – 2008 Drawings on paper, 24 × 30 cm Ritual Aspects of Art, 2007 – 2008 Drawings on paper, 42 × 29,7 cm Shanghai Demoire, 2007 – 2008 Collages on paper, 27 × 36 cm Achterover / Hinterher / Backwards, 2000 Computer animation, 5' God en Geweld (God and Violence), 1994 Old pencil drawings, 32 × 24 cm
TRENTO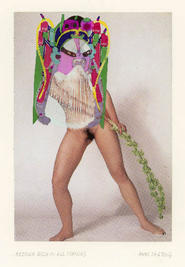 Anne-Mie Van Kerckhoven's work involves painting, drawing, computer art and video art. About her drawings she says: "Since 1974 I have made drawings from my subconscious. I always refused to find logical meaning behind the apparent mind maps. I rarely had the chance to show them – no art-world interest. I never stopped making them. All the years, mingled together, give an overview of a certain evolution going on in my brain. Now I am archiving them: thirty years of automatic drawing."
The series Kalligraphie was produced in consultation with sources on Giordano Bruno, the structure of atoms and molecules, and Saturn. The drawings are the spontaneous outcome of all these influences. Their natural continuation is Ritual Aspects of Art, which deals with ritual and prehistoric art and artificial moons. The video Achterover / Hinterher / Backwards animates a half-naked woman leaning back: the image changes colors slowly, revealing periods of art history. In the drawings God en Geweld, the model and the skeleton imitate a magnetopath and his patient: the woman-model instills a more natural perception of death and a new kind of inner control. The collages of Shanghai Demoire incorporate Chinese ritual theater masks and Japanese naked woman pictures bought on the street in Shanghai. The artist gave each the title of a classic Chinese good luck image.
Location
TRENTO
ANSELM FRANKE/HILA PELEG: "THE SOUL (or, Much Trouble in the Transportation of Souls)"
PALAZZO DELLE POSTE, VIA S.S. TRINITA' 27, I-38100 TRENTO, ITALY
more