artists
Nico Vascellari
1976, s. bernardino, IT Lives in Vittorio Veneto, IT and New York, US
Untitled, 2008 Sound and video installation
ROVERETO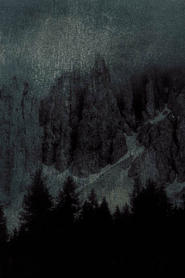 Cultural anthropology is the framework for Nico Vascellari's complex and eccentric installations which combine performative and sculptural elements with drawings, collages, videos and sonic extravaganzas. Folklore, nature and the alternative underground scene contribute to the artist's unusual analysis of contemporary visual culture. Vascellari, himself a singer in the punk band, With Love , operates using rebellious artistic gestures that originate in tribal rituals of an archaic world, on the threshold of expression and collective consciousness.
His contribution to Manifesta 7 are large scale video installations, recordings of performances that artist conducted in various natural environments (a cave near Rovereto, the Carpathian Forest, the Black Forest, Finland, Norway and Tasmania) with the participation of musicians, representing diverse musical genres, including noise, black metal, doom, folk, ambient and electronic. Overlapping layers of music, influenced by the atmosphere of nature (forests and mountains in particular), orchestrated in seemingly random sequences, present new sense of landscape. Vascellari's work provides a journey, where the grotesque and sublime conspire towards the production of an experience that is purifying, aesthetic and sensory.
Location
ROVERETO
ADAM BUDAK: "PRINCIPLE HOPE"
EX PETERLINI, VIA SAVIOLI 20 – MANIFATTURA TABACCHI, P.ZZA MANIFATTURA 1 -STAZIONE FERROVIARIA, PIAZZALE ORSI, I-38068 ROVERETO, ITALY
more