artists
Angela Melitopoulos
1961, Munich, DE Lives in Cologne, DE
The Language of Things / Die Sprache der Dinge, 2007 Video, 33'
TRENTO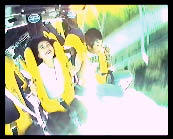 "No occurrence or thing," wrote Walter Benjamin in 1916, "fails to take part in some way in language; for it is essential to each to convey its meaningful content." Angela Melitopoulos's video essay The Language of Things is subtitled at critical moments with quotations from Benjamin's On Language as Such and on the Language of Man. Silently spoken, they appear over images of a sequence of precisely calibrated machinery – carousels, wave pools, and other machines offering the thrills of acceleration – from Tokyo's artificial worlds and high-tech amusement parks.
Things, Benjamin tells us, have a dumb and inchoate form of speech, yet they communicate by means of a "material commonality" with each other. This commonality is immediate and magical. Only through the mediation of things can the world be grasped as a whole.
Through the use of the language of technology, the people in amusement park rides can transport themselves into ecstasy. For a thousandth part of a second gravity is suspended and speed induces sheer joy. Even the video screen breaks apart. The technologies of this enjoyment are the nonlinguistic effects of a calculating language of designation: the language of humans, with its vocabulary of physical designations, leads to technical knowledge and calculability of affect. In this sense, the language of things expresses, through technology, a kind of commonality by which the world seizes upon itself as an undivided whole.
Location
TRENTO
ANSELM FRANKE/HILA PELEG: "THE SOUL (or, Much Trouble in the Transportation of Souls)"
PALAZZO DELLE POSTE, VIA S.S. TRINITA' 27, I-38100 TRENTO, ITALY
more