artists
Pamela Rosenkranz
1979 in Bern, CH Lives in Zurich, CH
Uncontent, 2008 Installation, dimensions variable
ROVERETO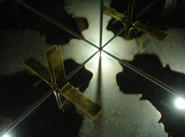 The openness of the present results from the absence of history. The darkness of the post-political situation produces an indifference in which the subject has to itself declare its own position. This assertion contains a principle of personal life. The subject does not inscribe itself into a hiastory anymore by the fading of meaning; it creates itself by going away from history and drawing a biographical circle which takes its form in the transition of day and night. This in itself generates a loop which constitutes the hope of a new subject. It marks the blank position, the hole within the neutrality of being, the enclosed space.
Pamela Rosenkranz's installation contains objects arranged in a circle of mirrors divided into four sections that represent the four sections of a clock, the circular of day and night. The mirror surfaces cut the objects into a half and complete them again through self-reflecting. The reflections produce an infinite space where outside and inside become undistinguishable and blurred, and the objects are composed of an actual part and its virtual company, matching the symmetrical nature of the object itself and bare its asymmetry throughout. The artist challenges simultaneity and anticipation while questioning the homogeneity and coherence of spatial agency. How the present can be thought? How space can be constructed outside of subjective typologies? In her ephemeral mise en scene, Rosenkranz conducts a minimal symphony of a meaning yet to come, a drama of self on precarious edge of subjective abyss.
Location
ROVERETO
ADAM BUDAK: "PRINCIPLE HOPE"
EX PETERLINI, VIA SAVIOLI 20 – MANIFATTURA TABACCHI, P.ZZA MANIFATTURA 1 -STAZIONE FERROVIARIA, PIAZZALE ORSI, I-38068 ROVERETO, ITALY
more