artists
Miklós Erhardt and Little Warsaw
Miklos Erhardt, 1966, Budapest, HU; Little Warsaw (Andras Galik, 1970, and Balint Havas, 1971, budapest, hu) They live in Budapest, HU
La nave dei folli, 2008 Video installation
ROVERETO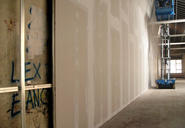 Considered among the most internationally relevant contemporary Hungarian artists, Miklós Erhardt and Little Warsaw have long shared a common interest in art projects aimed at tracing the identity of social collectives. Erhardt addresses immigration, tourism, homelessness and issues of general economics, whereas Little Warsaw is more concerned with investigating popular and historical symbols, including the presence of monuments and their significance to the public space.
For the occasion of Manifesta 7, they present a collaborative endeavor, a film project that takes the recent history of one of the exhibition venues, the ex-Peterlini, as its point of departure. Having been abandoned for several years, the building was squatted by a local anarchist group in 2002. The details of this short-lived occupation and its main characters became the subject of an in-depth investigation conducted through surveys and on-site research that allowed the artists to collect extensive documentary material. Nevertheless, the resulting video is not a reconstruction of these facts but rather an event restaged in the artists' home city, dramatized through a Brechtian mechanism of Verfremdung (estrangement). The outcome is a performance that draws on the real facts to build a new version of political psychodrama, creating a dialectical relationship between the appropriation of a local happening and its alienation when staged in a foreign context.
Location
ROVERETO
ADAM BUDAK: "PRINCIPLE HOPE"
EX PETERLINI, VIA SAVIOLI 20 – MANIFATTURA TABACCHI, P.ZZA MANIFATTURA 1 -STAZIONE FERROVIARIA, PIAZZALE ORSI, I-38068 ROVERETO, ITALY
more