artists
Heidrun Holzfeind
1972, Lienz, AT Lives in New York, US
Mexico 68, 2007 Four-monitor video 4 DVDs, 8 video interviews, in English, Spanish and German with English subtitles, duration: 7' 16'' each and photo installation 31 b/w archive photographs, various sizes C.U. (Mexico City, August 2006), 2007 Slide installation with 120 slides, two synchronized projectors
ROVERETO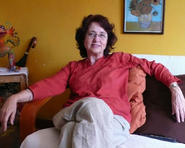 Heidrun Holzfeind often shows the circumstances of individuals considered to be social outsiders, like immigrants or homeless people, and maps the network of dependencies that condition individual and collective identities. The artist's sociological reflection takes place at the intersection of the private and the public, where the personal experience, perception of space and memory help contribute to the construction of the political, social and historical Gestalt .
Mexico 68 consists of a selection of 8 interviews with participants of the 1968 student movement in Mexico City, discussing the significance and impact of these events on Mexican society. Far from attempting to construct a monument, Holzfeind documents the visions and dreams of a generation who strived to change Mexican society. Additionally, black and white archive photographs document the course and development of the movement: student activities, massive protest marches, confrontations with riot police, etc.
C.U. (Mexico City, August 2006) is a photographic monograph of the campus of the National University in Mexico City (today known as the "Ciudad Universitaria," C.U.), one of the major sites of the 1968 movement. The artist investigates the layout of the campus, designed by Mario Pani and Enrique del Moral as a modern "city" which combines modernistic principles with historic references and rational architecture in the international style. Documenting everyday life on the campus and the ageing of the modernist structures, C.U. (Mexico City, August 2006) researches the role architecture plays in constructing social space.
Location
ROVERETO
ADAM BUDAK: "PRINCIPLE HOPE"
EX PETERLINI, VIA SAVIOLI 20 – MANIFATTURA TABACCHI, P.ZZA MANIFATTURA 1 -STAZIONE FERROVIARIA, PIAZZALE ORSI, I-38068 ROVERETO, ITALY
more