artists
Ranu Ghosh
1965, Kolkata, IN Lives in Kolkata, IN
The Dialogue Remains, 2008 Two-channel video installation, duration: 30' and 60'
BOLZANO/BOZEN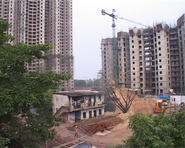 "Farming is our legacy, industry is our future." This is the new slogan of the Communist-led government that for the last thirty years has presided over the state of West Bengal in eastern India. The government has been collaborating with private investors to acquire land and replace farming with large-scale industries. At the same time, in the cities, factories are being sold off and replaced with high-value real estate.
Jay Engineering Works, a factory in South Kolkata producing such consumer durables as sewing machines, was sold to a group of real estate developers in 2004. All the workers were evicted with little or no compensation – except one, Shambhu Prasad Singh, a man in his fifties who refused to accept the deal. He filed a case against his former employer, got a stay order from the court and remained in his quarters.
"Since 2004 I have been documenting the enormous development around this old factory. Since I was not allowed to enter the site, I began a collaboration with Shambhu, who lives beyond the closed gate and therefore could shoot a video in that zone. The Dialogue Remains is a two-screen video documentary shot by Shambhu and me." Ranu Ghosh
Ranu Ghosh is an independent film director, producer and filmmaker.
Location
BOLZANO/BOZEN
RAQS MEDIA COLLECTIVE: "THE REST OF NOW"
EX ALUMIX, VIA VOLTA 11, I-39100 BOLZANO/BOZEN, ITALY
more