artists
Teresa Margolles
1963, Culiacán, MX Lives in Mexico City, MX
Sudor y Miedo, 2008 Water, humidifier
BOLZANO/BOZEN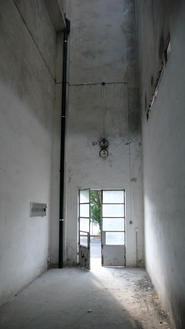 The room is apparently empty, though there is the faint sound of a humidifier. The air feels moist on the skin. The viewer cannot find anything to look at except a label on the wall. This reveals that the air in the room has been humidified with water brought from a morgue, where it was used to wash the bodies of unidentified corpses prior to autopsy.
Teresa Margolles worked as a forensic technician in a morgue in Mexico City, where she forged uncanny connections with the city's dead and anonymous underclass. Her work explores the idea of death and its visceral presence, in the experience of the living.
Location
BOLZANO/BOZEN
RAQS MEDIA COLLECTIVE: "THE REST OF NOW"
EX ALUMIX, VIA VOLTA 11, I-39100 BOLZANO/BOZEN, ITALY
more