artists
Rupali Gupte & Prasad Shetty
Rupali Gupte, 1974, Mumbai, IN; Prasad Shetty, 1975, Mumbai, IN They live in Mumbai, IN
Multifarious Nows: Mumbai Mill Land Stories, 2008 Multimedia map, 215 × 215 × 15 cm
BOLZANO/BOZEN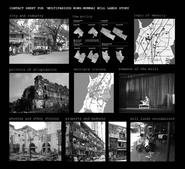 Mumbai's textile mills date from the 19th century, when the city was a major exporter of cotton textiles. Labor conflict and new sources of competition closed most of these mills in the 1970s and 1980s. They occupy some 600 acres at the heart of Mumbai, a city with some of the most expensive real estate in the world.
Multifarious Nows is a multimedia map of the Mumbai mill lands, containing films and other objects suggesting (often semi-fictitiously) the nuanced history and multifarious "nows" of this dynamic area of the city. It is an attempt at rebuilding the map of Mumbai's mill lands beyond its cartographic skin, accessing the richness of its lived spaces, its memories and intricate narratives.
Rupali Gupte is an architect, writer and urbanist who works and teaches in Mumbai. As an urban researcher and designer she is interested in tactical urban conditions and design interventions.
Prasad Shetty is an architect and urban researcher who is particularly concerned with contemporary Indian urbanism, including studies of post-industrial landscapes in Mumbai.
Location
BOLZANO/BOZEN
RAQS MEDIA COLLECTIVE: "THE REST OF NOW"
EX ALUMIX, VIA VOLTA 11, I-39100 BOLZANO/BOZEN, ITALY
more