artists
Mazzoni's Trento Palace: To the Return of Color
Materials and Notes for the Restoration project by Fabio Campolongo (P.A.T.) Surveyor for Architectonical Heritage Autonomous Provincia of Trento
TRENTO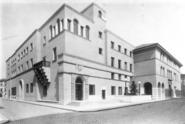 The Palazzo delle Poste in Trento, designed by Angiolo Mazzoni in 1929, reconfigured the 19th century Austro-Hungarian post office and the 'fragments' of a Renaissance building into a modern articulated complex with artwork – partly lost – by Depero, Prampolini, Tato (Guglielmo Sansoni), Bonazza, Pancheri, Zuech, and Ticò. Photos taken in the 1930s by Perdomi and Unterveger bear witness to Mazzoni's extraordinary work of high tailoring: an architecture of artificial stratifications; a site of co-presences where historicisms, archaisms, and modernisms live together both in harmony and in contradiction; a collection of fragments and quotations.
The city and its administrators are now called to ask themselves how this "public palace" can be reused. In the course of the recent rearrangements of the post offices and upon the occasion of Manifesta 7, the surprising chromatic sequence of the interiors has been documented. The 'futurist' reds, blues, greens, browns, ochre, and aluminum colors laid on doors and walls set off the heterogeneous artworks of the thirties. In a Trento 'redeemed' by the First World War, the outside walls of light Savoy blue were more intense than any tri-colored flag. A selection of these archival materials will be presented in post office building during exhibition "The Soul". The presentation is designed in collaboration with the architect Andreas Müller.
Fabio Campolongo is an architect and architectural historian based in Trento. While following the restoration of the Palazzo delle Poste he has collected a great deal of information and images which evidence the story of the building.
Location
TRENTO
ANSELM FRANKE/HILA PELEG: "THE SOUL (or, Much Trouble in the Transportation of Souls)"
PALAZZO DELLE POSTE, VIA S.S. TRINITA' 27, I-38100 TRENTO, ITALY
more