artists
Jaime Pitarch
1963, Barcelona, es Lives in Barcelona, es
Chernobyl, 2007 Lime tree wood, aniline, oil, varnish
BOLZANO/BOZEN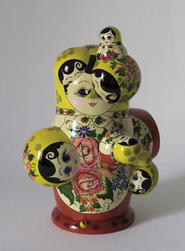 "My work takes as its starting point the contradiction between our mistrust of social structures and our desire to fit into them. I address this contradiction by looking at the order that underpins any form of production, trying to find the common aspects between the design, for example, of a chair, and the design of a political or economic strategy.
I do so because I believe the motivations behind all these forms of production are not so distant. Men and women live in a perpetual state of social adaptation, however the pace of change is not determined by individuals but by the inertia of the group. This social adaptation is often unsuccessful, generating a sense of inadequacy or dissatisfaction. I express the tragicomic condition of this unsuccessful adaptation, and the absurdity of the signs offered to us for social guidance (political mottos, emblems, nationalistic imagery, etc.) by deconstructing familiar objects and reassembling them into new kinds of resonance. The disparity between the first state and the last speaks of our eternal condition of displacement." Jaime Pitarch
Jaime Pitarch uses cheap equipment and materials to produce videos and "sculptures." His goal is to produce evocative works that escape the new forms of mannerism that impregnate global art practices within a technophile society.
Location
BOLZANO/BOZEN
RAQS MEDIA COLLECTIVE: "THE REST OF NOW"
EX ALUMIX, VIA VOLTA 11, I-39100 BOLZANO/BOZEN, ITALY
more