artists
Xisco Mensua
1960, Barcelona, ES Lives in Rocafort, ES
Informe para una Academia, 2007 Series of 32 drawings, Indian ink on paper, 46 × 61 cm
TRENTO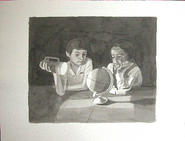 Informe para una Academia borrows its title from A Report for an Academy, a short story by Franz Kafka. It comprises thirty-two drawings copied from photographs and the pages of open books. Departing from Walter Benjamin's idea of writing a book based entirely on quotations, Xisco Mensua created this polyptych from a compilation of images of people handling papers, observing something, or involved in events happening around them. The drawings also feature places associated with learning, like classrooms and libraries, plus quotations of intellectuals such as Miguel de Unamuno, Friedrich Nietzsche, Walter Benjamin, Samuel Beckett, Pier Paolo Pasolini and Antonin Artaud, most of whom came to a tragic end. The whole ensemble transmits something midway between irony and desolation. In this regard the work touches on a negative vision of cognition and learning.
The series is structured in groups of four drawings, each one beginning with a copy of an open book, introducing the other three images. The pages of the books reveal poetic and interpretative keys, while the images function like historic documents, making reference to issues of war, authorship, territory, rote learning, madness, attention and searching.
Location
TRENTO
ANSELM FRANKE/HILA PELEG: "THE SOUL (or, Much Trouble in the Transportation of Souls)"
PALAZZO DELLE POSTE, VIA S.S. TRINITA' 27, I-38100 TRENTO, ITALY
more