artists
Jörgen Svensson
1958, Karlstad, SE Lives in Gothenburg, SE
The World Next Door, 1994 / 2008 Two-channel video, 10'
BOLZANO/BOZEN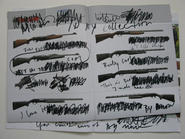 The World Next Door consists of two fictitious documentary films. Brothers in Sin deals with fictitious murders carried out by two brothers in the United States during the 1980s. In these murders, the camera is the true weapon, since the killing is not the goal so much as the production of images. This film was made in San Francisco in 1994 and has never been shown. Clown Town shows an anonymous place where all the inhabitants have clown features. The film is an exploration of the distortions and perversions arising in the entertainment society.
The people in these films are the residue of the pop culture they belong to, and their behavior is symptomatic of the society they live in.
Jörgen Svensson has taught fine arts at the Valand School of Fine Art in Gothenburg and at the Art Academy in Trondheim. He is particularly interested in art that enters into public spaces and forums, because he feels that art has a crucial role in supplementing the limited social vision of scientists and journalists.
Location
BOLZANO/BOZEN
RAQS MEDIA COLLECTIVE: "THE REST OF NOW"
EX ALUMIX, VIA VOLTA 11, I-39100 BOLZANO/BOZEN, ITALY
more