künstler
Jörgen Svensson
1958, Karlstad, SE Lives in Gothenburg, SE
The World Next Door, 1994 / 2008 Two-channel video, 10'
BOZEN/BOLZANO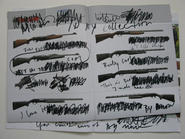 The World Next Door besteht aus zwei fiktiven Dokumentarfilmen. Brothers in Sin erzählt von fiktiven Morden, die in den 1980er Jahren von zwei Brüdern in den Vereinigten Staaten verübt wurden. Die eigentliche Waffe dieser Mordtaten ist die Kamera, da das Ziel weniger das Töten, als vielmehr die Produktion von Bildern ist. Der Film entstand 1994 in San Francisco und wurde noch nie gezeigt. Clown Town zeigt einen Ort am Ende der Welt, in dem alle Bewohnerinnen und Bewohner die Eigenschaften von Clowns besitzen. Der Film erforscht die Verzerrungen und Perversionen der Unterhaltungsgesellschaft. Die Menschen in diesen Filmen sind die Rückstände der Popkultur, der sie angehören; ihr Verhalten ist symptomatisch für ihre Gesellschaft.
Jörgen Svensson unterrichtete Kunst an der Valand School of Fine Art in Göteborg und an der Kunstakademie in Trondheim. Er interessiert sich besonders für Kunst, die in öffentliche Räume und Foren eindringt, da er der Meinung ist, dass Kunst eine entscheidende Rolle in der Ergänzung der begrenzten sozialen Vision von WissenschaftlerInnen und JournalistInnen spielt.
Location
BOZEN/BOLZANO
RAQS MEDIA COLLECTIVE: "THE REST OF NOW"
EX ALUMIX, VOLTASTRASSE 11, I-39100 BOZEN/BOLZANO, ITALIEN
mehr