artisti
Jörgen Svensson
1958, Karlstad, SE Lives in Gothenburg, SE
The World Next Door, 1994 / 2008 Two-channel video, 10'
BOLZANO/ BOZEN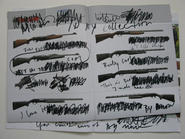 The World Next Door è composto da due falsi documentari. Brothers in Sin parla di assassinii simulati, eseguiti da due fratelli negli Stati Uniti negli anni ottanta. In questi omicidi, la videocamera è la vera arma, poiché non è tanto l'assassinio a interessare quanto la produzione di immagini. Questo film è stato girato a San Francisco nel 1994 e non è mai stato proiettato. Clown Town mostra un luogo nel mezzo del nulla dove gli abitanti hanno le sembianze da clown. Il film è un'esplorazione delle distorsioni e delle perversioni che provengono dalla società dello spettacolo.
Le persone in questi film sono i residui della cultura pop a cui appartengono e il loro comportamento è sintomatico della società in cui vivono.
Jörgen Svensson ha insegnato Fine Arts presso la Valand School of Fine Art a Gothenburg e presso l'Art Academy a Trondheim. È particolarmente interessato alle forme d'arte che riescono a entrare negli spazi e nei forum pubblici, consapevole che la produzione artistica abbia un ruolo cruciale nell'essere complemento della limitata visione sociale degli scienziati e dei giornalisti.