artists
etoy.CORPORATION
Based in Zurich, CH, and Berlin, DE
Mission Eternity* Self-Encapsulation, 2008 Shipping container, test environment for time capsule
BOLZANO/BOZEN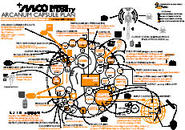 Five etoy.CREW MEMBERS will live and work inside a standard shipping container to encapsulate their own data for the eternal trip called MISSION ETERNITY (missioneternity.org) – a digital cult of the dead. With this project etoy questions the role of storage technology, archiving strategies and loss in the digital age. In live public sessions, etoy.AGENTS will try to format, filter, parse and compress their own digital legacy. Social interaction will be the main base for the construction of a new breed of self-portrait called ARCANUM CAPSULES. These digital capsules are designed to survive hundreds of years, through massive technological and social change. After physical death each ARCANUM CAPSULE is linked to the TERMINUS – an art object containing the mortal remains of the PILOT.
etoy.CORPORATION is known for its pioneering role in Internet art. etoy is incorporated as a privately-held shareholder company. It replaces the older concept of the genius artist with a brand that is owned, controlled and fed by a group of stakeholders: etoy.AGENTS, investors, art collectors and fans. In the art market, the only available product of etoy is etoy.SHARE.
Location
BOLZANO/BOZEN
RAQS MEDIA COLLECTIVE: "THE REST OF NOW"
EX ALUMIX, VIA VOLTA 11, I-39100 BOLZANO/BOZEN, ITALY
more