künstler
Activate, Actuate:
The Former Palazzo delle Poste Kuehn Malvezzi
TRIENT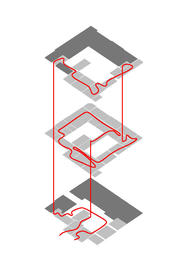 "Das ehemalige Postamt in Trient mit seinen unauffälligen Räumlichkeiten und Büros ist beispielhaft für eine Architektur, die auf den ersten Blick nicht gerade die Berufung zum Museum ausstrahlt. Auch bei der örtlichen Bevölkerung ist es unbeliebt – vielleicht weil es sehr präzise und bis ins kleinste Detail die problembehaftete politische Vergangenheit bezeugt und widerspiegelt. Der Ort ist ein Stück ausradierter Erinnerung, gleichzeitig präsent und abwesend. Wer könnte erahnen, dass sich unter der beinahe schwarzen Fassade ein zarter hellblauer Putz befindet? Für Manifesta 7 wird das Postgebäude in eine Art Maschine der Wahrnehmung verwandelt, die neue Perspektiven für die dort gezeigten Kunstwerke eröffnet. Die Verwendung als künstlerischer Raum stellt seine urbanen Eigenschaften über die architektonischen, die verbindenden Elemente werden wichtiger als die physische Beschaffenheit. Die physischen Details des Gebäudes werden weder überhöht noch neutralisiert, sondern in eine Beziehung gebracht, die eine neue Erfahrung von Räumlichkeit ermöglicht. Vertikale und horizontale Elemente umgeben die Ausstellung und sind so miteinander verbunden, dass sich eine kontinuierliche Bewegung durch alle Teile des Gebäudes ergibt. Dieser Parcours wird zum zentralen Moment der Manifesta 7-Ausstellung im Palazzo delle Poste; ein räumliches Zusammenspiel, das die körperliche Bewegung des Besuchers in den Mittelpunkt der Wahrnehmung rückt und die verschiedenen Beziehungen mit den künstlerischen Interventionen herausstreicht."
Kuehn Malvezzi wurde 2001 in Berlin von Simona Malvezzi, Wilfried Kuehn und Johannes Kuehn gegründet. Sie sind auf Museumsarchitektur und Ausstellungsdesign spezialisiert.
Location
TRIENT
ANSELM FRANKE/HILA PELEG: "THE SOUL (or, Much Trouble in the Transportation of Souls)"
PALAZZO DELLE POSTE, VIA S.S. TRINITA' 27, I-38100 TRIENT, ITALIEN
mehr