artists
Activate, Actuate:
The Former Palazzo delle Poste Kuehn Malvezzi
TRENTO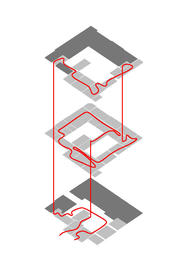 "A standard building of offices and ordinary rooms, the former Post Office in Trento is an example of architecture that at first sight has no vocation as a museum. Nor it is beloved by the local population – perhaps because it witnessed and reflects a troubled political past, with precision down to the smallest detail. The palace is a piece of removed memory, present and absent at the same time. Who could guess that the facade, now almost black, wears a delicate light blue plaster underneath?
For Manifesta 7, the Post Office building will be transformed into a perceptive machine to create a new viewpoint for the artworks installed. Its use as an artistic space exalts its urban properties over its architecture, the connecting elements rather than the physical features. The physical details of the building are neither exalted nor neutralized, but set into a relationship that introduces a new sense of spatiality. Vertical and horizontal elements circulate around the show, connected so as to create continuous movement throughout all parts of the building. This course becomes the key to the exhibition at the Post Office Palace, a spatial interaction which places the physical movement of the visitor at the center of perception, highlighting the relationship with the artistic interventions."
Kuehn Malvezzi was founded in 2001 in Berlin by Simona Malvezzi, Wilfried Kuehn and Johannes Kuehn. They specialize in museum architecture and exhibition design.
Location
TRENTO
ANSELM FRANKE/HILA PELEG: "THE SOUL (or, Much Trouble in the Transportation of Souls)"
PALAZZO DELLE POSTE, VIA S.S. TRINITA' 27, I-38100 TRENTO, ITALY
more